Urexter RS & Laripur RS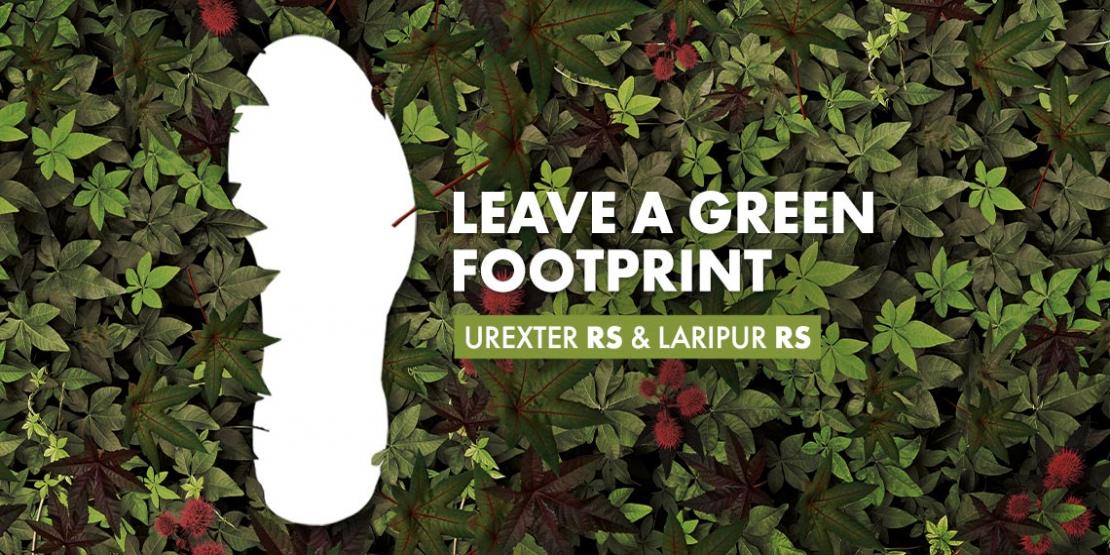 ---
COIM's new biobased products lead the transition from fossil to renewable sources in the footwear materials industry
Urexter RS and Laripur RS - polyurethane products formulated with more than 70% renewable raw materials - are used to make soles for various types of footwear. Luxury footwear manufacturers are early adopters of this type of product and forerunners of a more sustainable way of thinking about footwear
COIM expects that the footwear market will, in the not too distant future, adopt these renewable solutions on an ever increasing scale

Milan, 10 March 2021
COIM, an Italian multinational that has been producing speciality chemicals since 1962, is presenting two new lines of biobased polyurethane products for the world of footwear.
Urexter RS and Laripur RS - used to make soles for fashion and luxury footwear, as well as casual, sports and safety footwear - are the result of careful development towards maximum sustainability, being formulated with a percentage of raw materials from renewable sources of over 70%.

Replacing fossil fuels with materials from renewable sources represents a real turning point for the footwear industry towards environmentally-friendly solutions that can be adopted on a large scale: the biobased materials developed by COIM using renewable vegetable sources ensure a better CO2 footprint, preserving the durability of the products and allowing manufacturers not to make changes to machinery and established production techniques.



Laripur RS and Urexter RS: biobased systems for the production of environmentally-friendly soles
In particular, Laripur RS thermoplastic polyurethanes, obtained from products derived from controlled supply chain plant cultivation, can be supplied with a carbon content from renewable sources of up to 75%.
"The new line of Bio Laripur RS granules," explains Fabrizio Epifani, COIM sales manager, "can be used on existing plants without the need for modifications, and guarantees the same performance as traditional TPUs while significantly reducing CO2 emissions throughout the supply chain. High performance with special focus on the environment".

Coim's commitment towards eco-friendly materials has further materialized in the creation of Urexter RS microcellular polyurethane systems for the production of soles for sports, safety, fashion and luxury footwear. Also in this case, the goal was perfectly achieved and Coim is now able to offer the market formulations with a content of raw materials from organic sources greater than 70%, without giving up the technical performance of traditional systems.



COIM's biobased products are also environmentally-friendly in terms of their production techniques: they can be used without modifying or replacing existing systems.
"As with the Laripur RS systems," adds Epifani, "the Urexter RS systems can also be used without modifying existing production technologies. We are very pleased with the results of this important project. Thanks to the commitment of our technical department and our collaboration with qualified partners such as Vi&Vi, a leading group in luxury fashion soles, we are able to offer the footwear world a complete range of eco-sustainable, high-performance and easy-to-use products".

"Vi&Vi is a company focused on innovation, an area in which we continuously invest," explains Mauro Garbin, owner of Vi&Vi. "We have felt the need to experiment with new eco-sustainable technologies in order to offer the market innovative products that respond to the growing demand for environmentally-friendly solutions from both footwear manufacturers and end users. Coim has responded with competence and responsiveness to this need and, thanks to this collaboration, our Bio products are increasingly appreciated by customers, especially in the luxury footwear range".